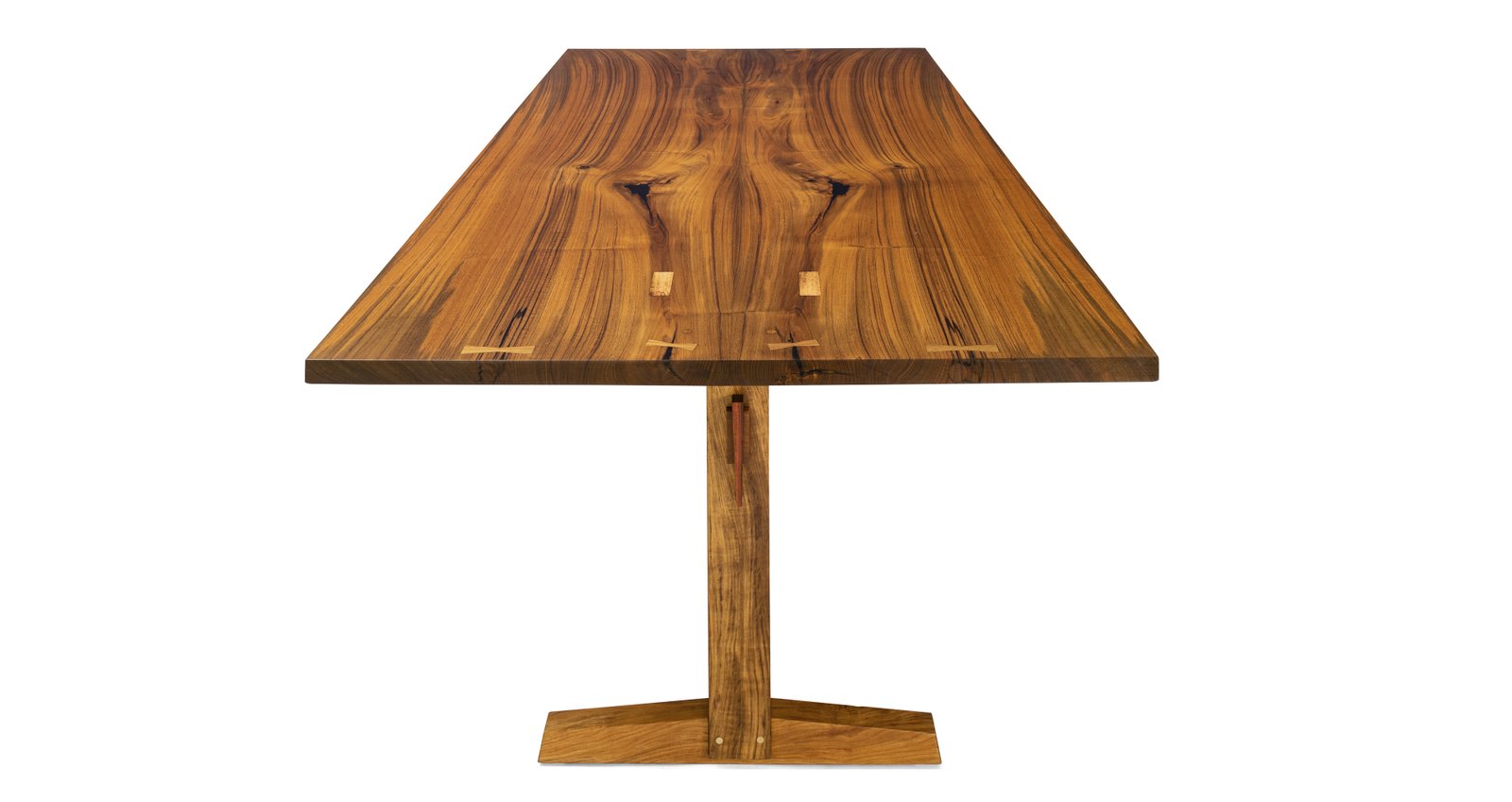 Custom Dining Table 'Heritage No.4' 
THB 320,000 – SOLD OUT
"Heritage 4" inspired by an iconic George Nakashima trestle table from the 1950's. This dining table is more than just an extraordinarily figured teak wood top. You will be well rewarded to get on your hands and knees to discover the many careful details and skilled refinement underneath.
The table top is made from a single slab of rare reclaimed Thai golden teak. At least a hundred years old, this slab of wood was originally used as a simple low platform for eating, drinking, sitting and sleeping.
The slab was carefully flattened, then precisely cut in half along its thickness. The two halves were joined in the center, creating a natural symmetry. The joinery seam is virtually invisible, bonded using an extremely durable process employed by the Rolls Royce bespoke wood department. Natural cracks and nail holes are reinforced on both sides of the slab with an inlaid patchwork of golden teak burl wood, butterfly keys, and structural adhesive resins. Sliding dovetail battens are crafted from quarter-sawn golden teak, and used underneath to ensure the table surface remains flat over its lifetime. They also serve to minimize cracks and allow for seasonal expansion/contraction.
The components for the base of the table were made from a single block of exceptionally figured golden teak. It was originally from the personal collection of a family who owns a traditional door making
business in Northern Thailand. The factory owner said it was too difficult for his carpenters to work with, but he knew it was a special piece, so he held onto it for more than 20 years, until I met them, and was able to give it a new life. I spent a solid week mentally 3D mapping the block, like a jeweler surveying an uncut diamond. Designing a plan based on the direction of the growth rings, was able to lay out the components not only to draw out the aesthetic beauty but also to maximize their strength. Custom made brass locking pins ensure the joinery will remain secure over many lifetimes. Additionally, triangular wedges made from reclaimed wood, securely lock the horizontal stretcher in place. Originally part of a 5-meter long round post from an old Thai house. The wood came from the very tip of the post which had been long ago driven deep into the ground. I bought only a very small piece from the tip of the blackened post. Encased in the soil for so long, the deep purples, reds, and oranges were only revealed once the locking wedges were cut, sanded and polished.
It takes a full month to finish a table like this, from design to completion. There are many variables which must be calculated and strategically considered, such as the density of the wood, its moisture content and the amount of natural resins present. The proprietary multi-step finishing process I have developed uses many hand-rubbed layers of a natural hard wax and oil compound, and produces a lustrous satin glow, and a deep satin finish which is silky smooth to the touch.
Reclaimed golden teak wood
Length 205 cm x Width 100 cm x Height 75 cm
Hand rubbed oil + wax
For more information
If you have an enquiry about a particular piece or wish to commission a custom design, please feel free to: