Bespoke Furniture – Behind the Scenes.
I create unique pieces for homes around the world. It is always a thrilling to work with new ideas and design inspiration that challenge and prove rewarding in so many ways.
My Discovery Table No. 1 Quilted Patchwork Live Edge is a commission work for an expatriate professional, serial entrepreneur in Singapore , who literally wanted one-of-a-kind dining table for his home – which could also follow him in his next overseas posting.
The challenge was to find one full, solid slab with outstanding grain in the required dimensions. Following a handful of road trips to various provinces, the hunt prize came in the form of a large live-edge slab of Makha (Afzelia).
This slab is three generations old and purchased directly from a family home in northern Thailand. This tree would have been 200 to 250 years old. Dying of natural old age and decay. Now to be reincarnated.
It takes eye and experience to see the potential beauty in this gem-in-the-raw. The wood is Thai Makha (Afzelia xylocarpa, ไม้มะค่า), a highly prized, rare hardwood which gives an outstanding finish. The wood is hard, heavy and dense and develops a beautiful patina as it ages.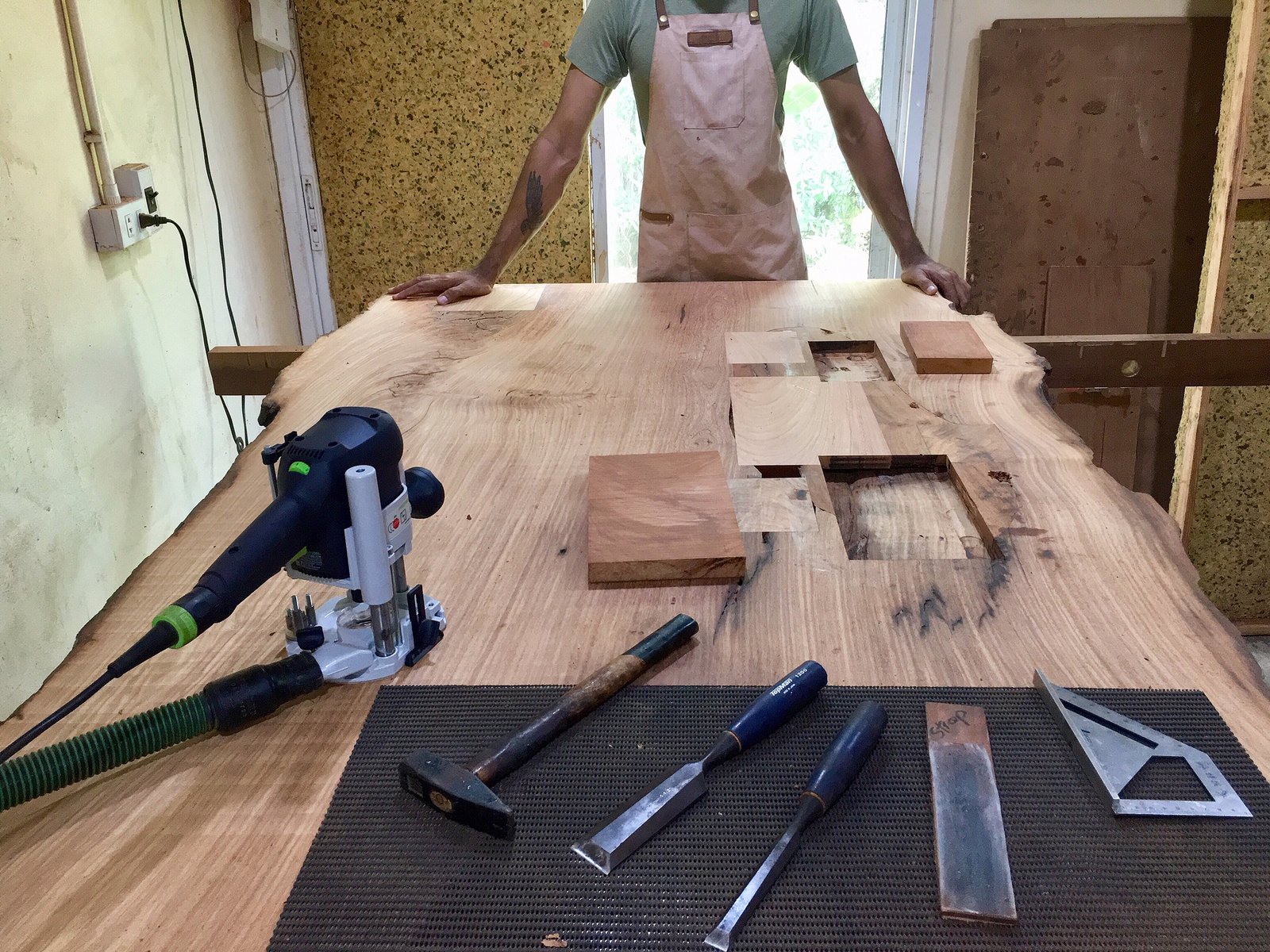 Wood surgery: This massive old slab of Makha is my canvas and patient. Parts of this slab had voids that went all the way through to the other side. Transplanting them with a system of interwoven wood inlays adds strength as well as some artistic expression.
Painting with wood. There was a very large void, which went all the way through this slab. The inlays help to fill and strengthen. Both top and bottom sides are reinforced. Although there are fantastic differences in colour tone and figure, every piece is from the same wood species as the actual slab. Differences in the age, climate, angles, and direction the wood is cut affect the way light will reflect from each individual piece. The idea being once this is polished and oiled it adds a jewel facet like element.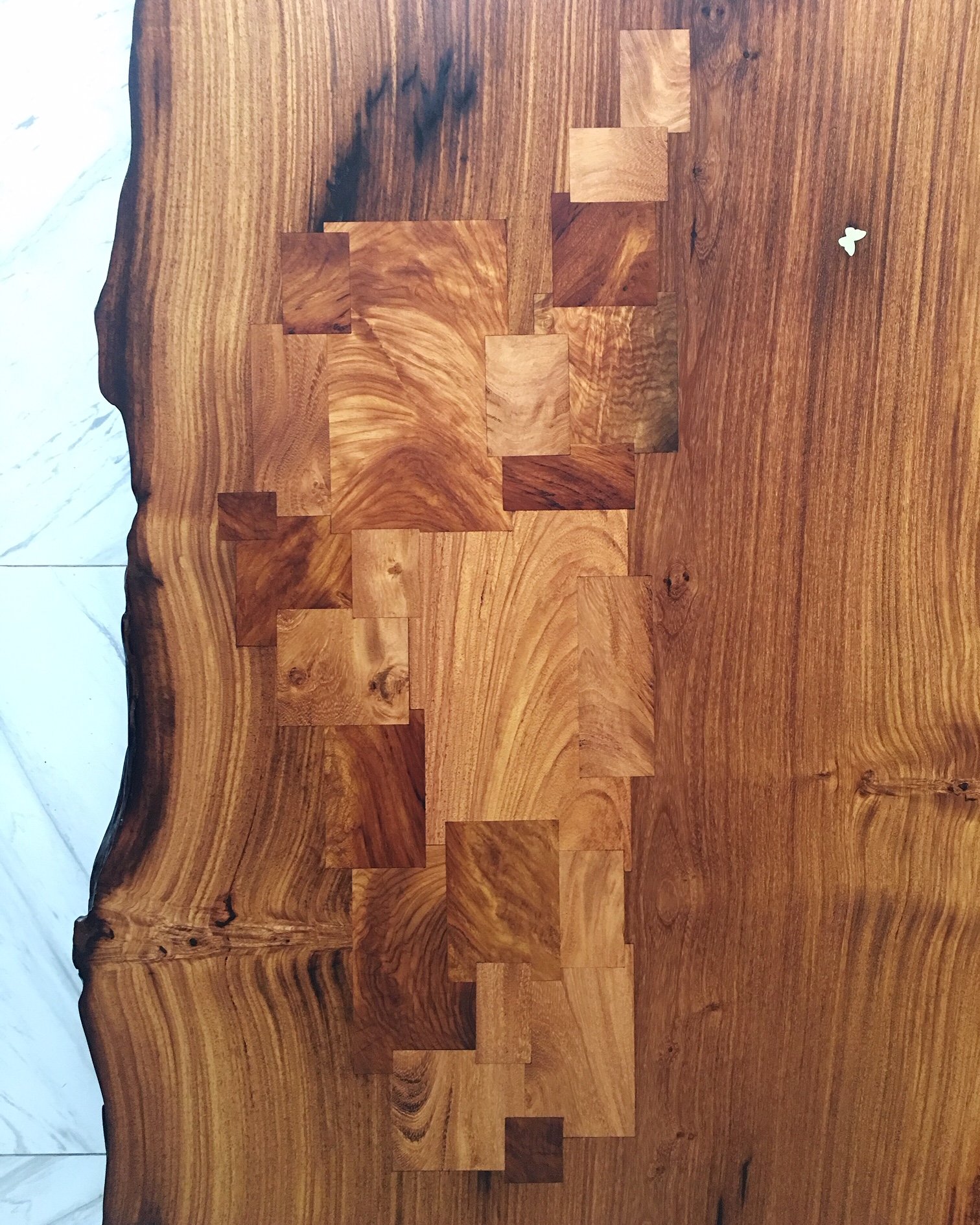 A magical transformation begins with the first coat of a hand-rubbed oil. Over the next 3 weeks, a total of 6 coats of oil will be applied.
Legs are back from polishers. This set of bespoke table legs is made from SOLID billet stainless steel. A combination of cutting edge technology and lots of hard handwork by skilled technicians.
Signed, dated, and serial numbered. The underside is beautifully finished with precision. Bespoke high strength steel channels ensure the table remains flat over time.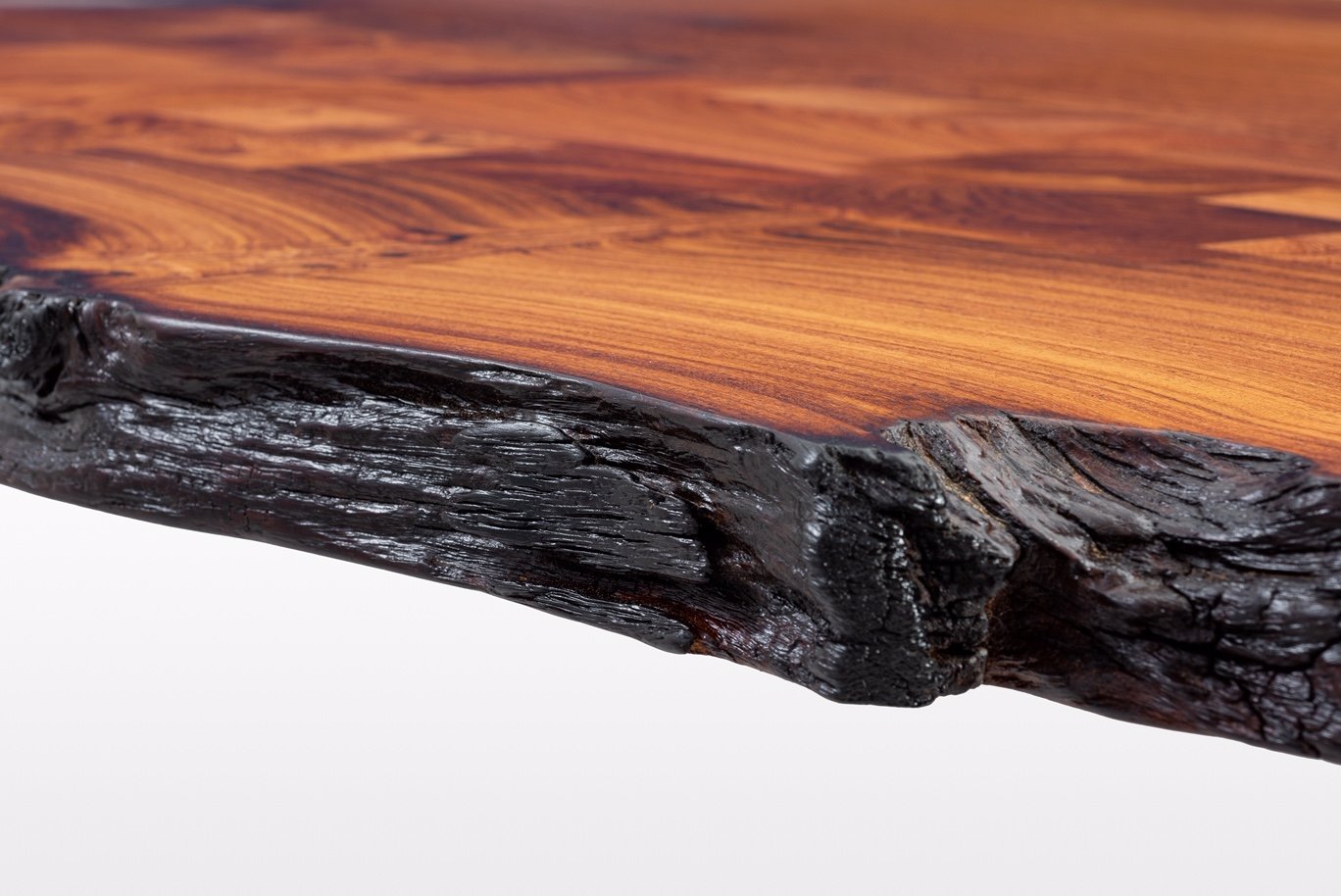 Detail of the natural edge.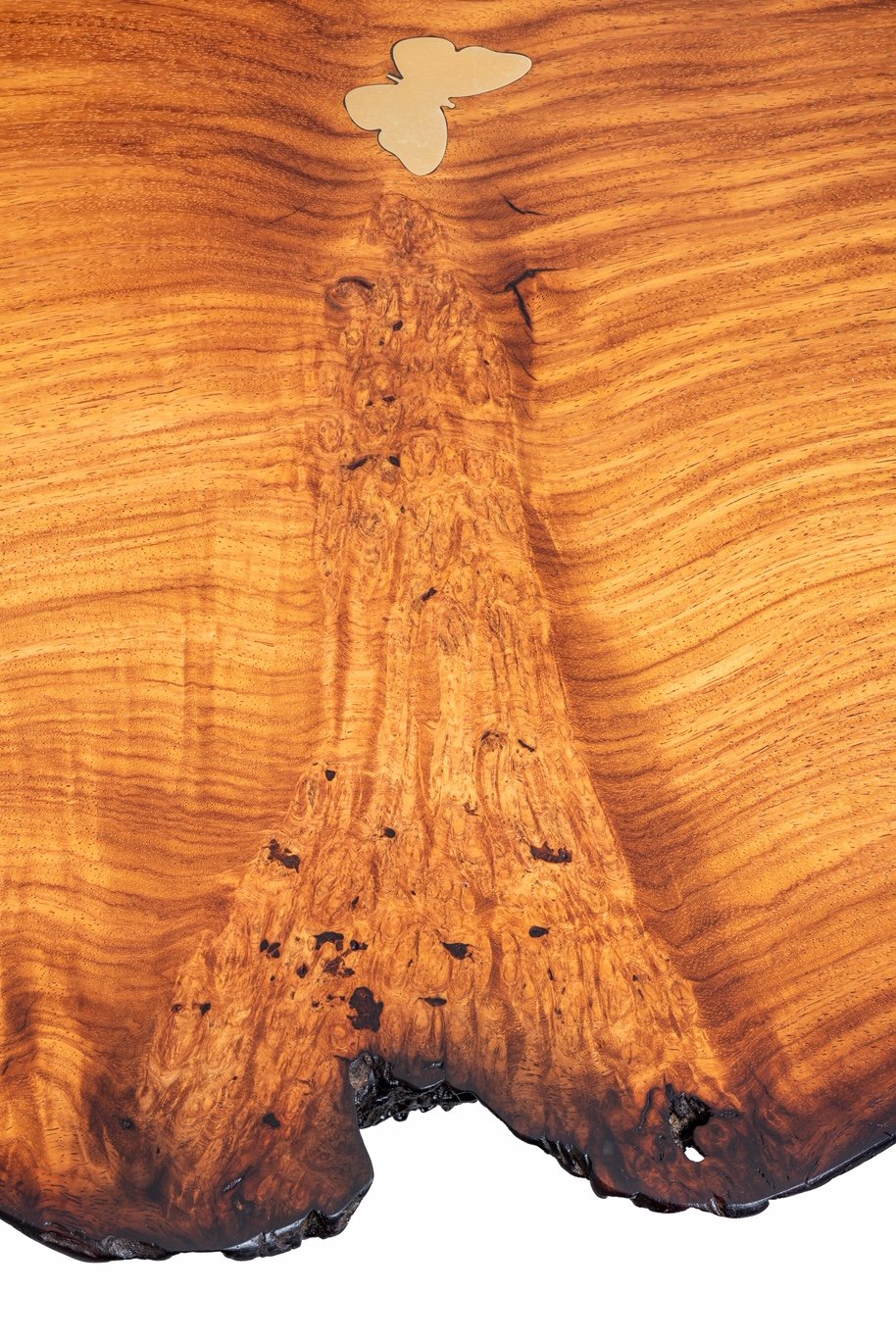 Stunning burl inclusions with a brass butterfly.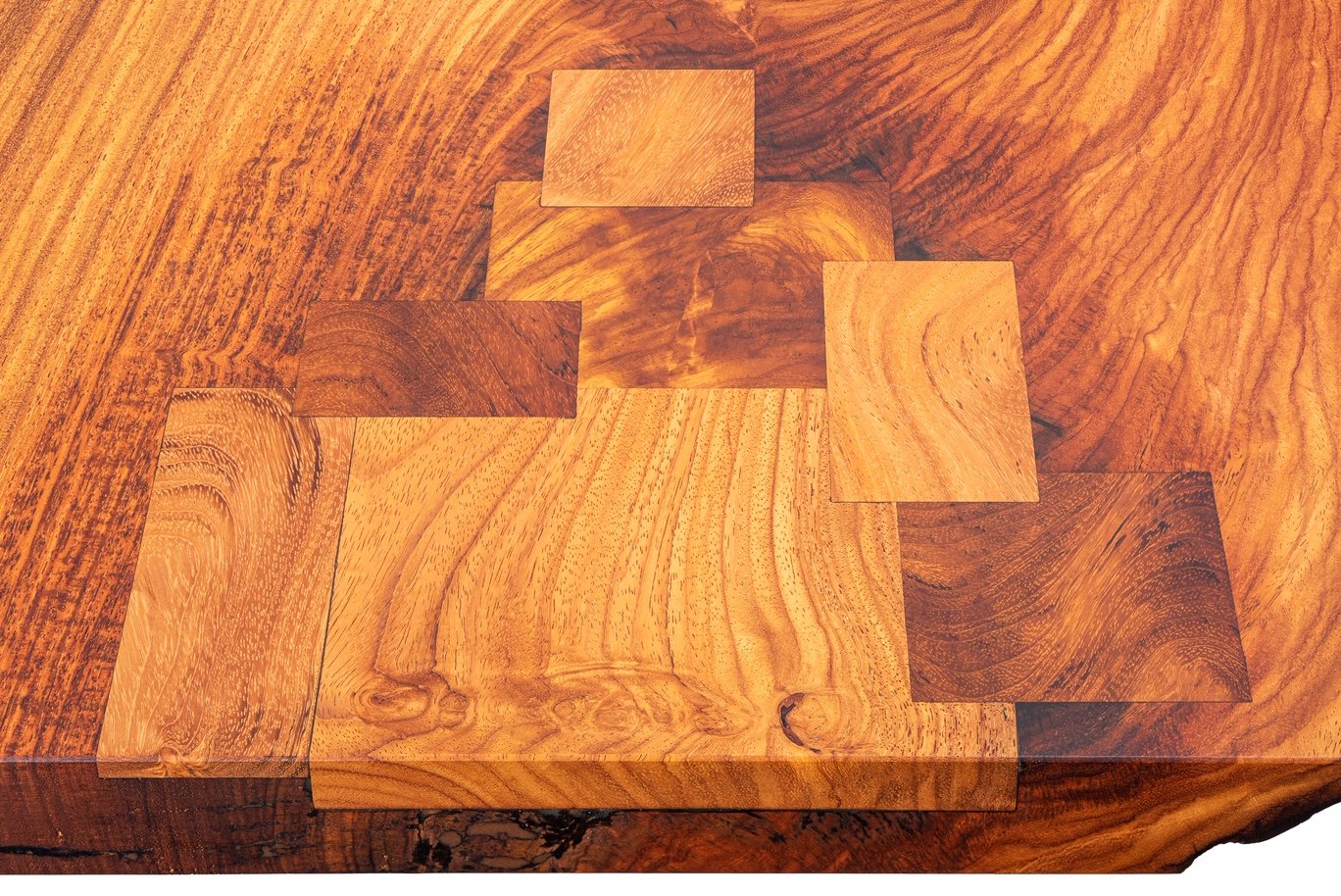 Edge patchwork detail. Note the 3D overlapping effect.
The fully completed dining table with its polished stainless steel legs.
In Singapore for door-to-door delivery and installation in person. Opening up the crates.
Dining table installed in its new home! The bench I am sitting on was also part of this project.
For more information
If you have an enquiry about a particular piece or wish to commission a custom design, please feel free to: